A crop circle to brighten up these winter days – what a sweet surprise!  The surprise was kicked up a notch when I added the Chualar, California formation to the all-in-one alignments map, where the circle corresponds notably to Pleiades Peak in Washington state and to the Gray, Tennessee crop circle of 2012: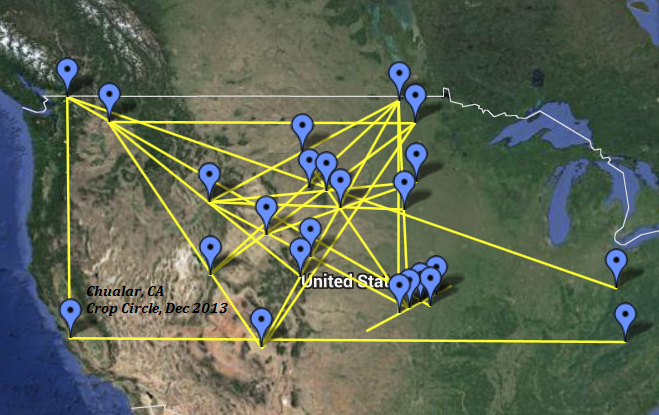 Click here to access an interactive map of the above alignments.
Following the release of what appears to be a staged video of the formation's discovery and reports of a group of people working in the field the day before, many have dismissed the circle as a run-of-the-mill hoax.   Just a few years ago I may have written it off as well – but after considering the human circlemakers who claim to be enigmatically inspired or compelled to create specific symbols in precise locations, I've changed my position.  After all, I've had numerous experiences of my own where I was seemingly guided to the right place at the right time for some "paranormal" event to occur, so why not others? The bottom line is that I can't deny that human-made formations may be part of the communication from a non-human source – and I believe that's what may have just happened in Chualar.
Regardless of how it was created on the ground, the details at Chualar confirm that it's a part of a custom-designed mode of communication that I've been diagramming for the past couple of years: flat-map alignments as symbols used in non-verbal expression by an Other Intelligence. The design contains or alludes to both Braille and Morse Code, as well as other communication systems. Not only do the shape and details of the Chualar circle echo the idea of an actual encoded language, but the formation's location on the map provides a new communication to be read through the alignments map: the addition of the Braille Number Sign to "read" (or decipher), just like the Braille Number Signs at Chualar show us how to read the numbers "192" that repeat within the circle's inner rectangle.
The "L" shape jumps out once Chualar is added to the map – it's on a north-south line with the Pleiades Peak and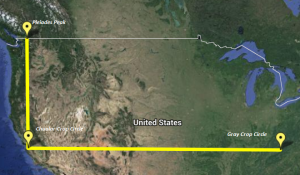 an east-west line with the Gray, Tennessee crop circle of last summer (and which hadn't directly tied in with the alignments until now). These north-south and east-west correspondences resonate with an established motif in the all-in-one alignments map: Spanish Fork UT and Teton ID fall on the same longitude line; Langdon ND and Plevna KS are on the same longitude line, as is Langdon KS, where I graduated from high school; Pleiades Peak and Langdon ND appear on the same latitude line; Wilbur WA and Thompson ND are on another latitude line; Spanish Fork UT and Boulder CO fall on the same latitude line. I really like the way the Chualar circle pulls "Gray" into the conversation through one of these special grid alignments.
"192" has got a multitude of possible meanings, but I find it especially curious that 192 is the Dewey Decimal number for library materials on the Philosophy of the British Isles – quite possibly a reference to the St Michael ley connection via the Bermuda Triangle with the Pleiades Peak, a very expansive flat-map alignment which was detailed in my last post two weeks ago.  And researcher Glenn Aoys from the Netherlands has found a link from the number 192 to the colour gray in a completely different context than Gray, Tennessee, bringing extra emphasis to that connection.
One question that I'm still pondering: Was this a predictive or derivative alignment? In any case, connections and resonances between Chualar and the alignments map – too many to detail at this moment – continue to arise. What matters is that all of these point to the reality of a language which Bright Garlick recognised when he wrote, in response to my posting of the original triangle alignments map, "Something you have hinted at, that I also think might be true – is that whatever is creating these circles and larger scale patterns, is using geometry as a means to tell us "I noticed you and have responded!". Which I reckon is a pretty strong way to confirm something that otherwise seems very subjective and hard to prove. We seem to find the proof we need, when we know how to look and sometimes we seem to be guided to that as well." Thank you, Bright; I couldn't say it better myself.
Information continues to stream from the resonances brought forth with this new alignment and will be posted here as it is compiled and analysed.
IMPORTANT NOTE: If you are new to Flat-Map Alignments, please see FMAs: FAQs.
STACE TUSSEL COLLIGAN
See also The Layered Language of Crop Circles:  Connecting the Dots in Extraordinary Phenomena Research and subsequent posts on alignments published here.