November 24th, 2015
So this morning, like almost every morning, I'm sitting at the computer about to get to work writing. Choices, choices: I've got a couple of science-fantasy novels in progress as well as a new article about the ancient Winged Disk symbol emphasised in 2015's crop circles. But I've been neglecting my fiction work so I type "fiction workshop" into the search box for some inspiration.
The first site on the list of results is Literary Fiction Workshop with free instruction by noted author William H Coles - something that fit into my budget and was immediately accessible, so I clicked. Intrigued by what I saw offered there, I wanted to know more about Coles, so I googled him and landed on his Wiki page. I chose a short story from the bibliography so I could sample his writing before submitting any of my own to him.
Googling coles "the gift" pdf I selected a page offering a number of stories to read or listen to. I scrolled down the page searching the list of titles and stopped at "The Indelible Myth." I scarcely noticed the small illustration accompanying the link until I opened that page and was greeted with a much larger version of it.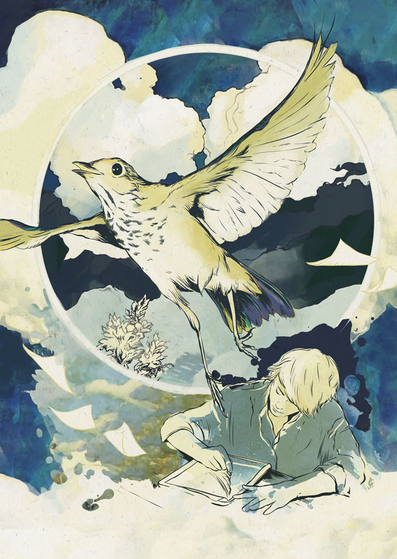 It took a few seconds to dawn on me.  Here was the image of the bird again, both my blue jay friend and the winged disk, just like at Hampton Lucy, just like I found my jay friend on the grass. And who's that sitting there writing it all down?
Once again communication arrives via a high-magnitude synchronicity specifically related to my crop circle work. Just like Chomsky and Chualar and Wilde Thompson and all the others I've shared here at IIC, this one flew straight at me this morning by virtue of seemingly random choices I made on the fly. Of billions of possible searches, the very specific choices and clicks I made led straight to a WINGED DISK.
My responsibility to you, my reader, is not just to let you know about all these cool synchronicities, but to deliver the messages they hint at. I do feel a connection with an Other Intelligence who seems to be very much aware of what's going on with my consciousness but the purpose of this connection goes far beyond that. The other side of this conversation is unfazed by the spacetime constrictions we've grown up with, and it has a lot to say.
This morning's synch once again clearly honours my connection with the playful, intelligent blue jay whose energy is very much alive in my mind's eye. And it again highlights the Winged Disk, a key theme running through the communication that's been coming through in the past year. Clearly the choice about what to write this morning was made for me, and I do need to get you the details that are still in the works for an upcoming post (or posts). The information encoded in these synchronicities and their corresponding crop circles just keeps coming, and it's an ongoing challenge to keep up with it all.
For now let me not leave you high and dry. The 2015 circles used the methods they described in 2014 to co-create multiple magnificent images of the winged disk, a symbol that originated many thousands of years ago and which was depicted with great reverence all around the world. Questions to ponder: What were our ancestors describing 5000 years ago, and what does it mean for us today that the winged disk and other sacred symbols are being highlighted via extreme synchronicity in 2015? Why are crop circles drawing our attention precisely to the gods and goddesses memorialised in the most ancient written histories of the mysterious high civilisations of the ancient Near East?
- STACE TUSSEL