October 20th, 2014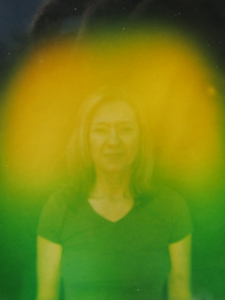 This "aura photo" was taken for fun at a metaphysical fair perhaps 10 years ago. What I've published here is a digital image of the original Polaroid.
In what's called "aura photography," a metal handplate collects biofeedback parameters associated with specific organs and electromagnetic energy from an individual, which are then translated into colour and superposed on the person's photograph.  The result is supposed to show that person's aura or halo might look at that moment.
What's interesting in my photo is not so much the colour of my field, but the anomaly that appears over my left shoulder. Enhancement reveals dimension in what appears to be an orb or ball of light (BOL) as it emerges vividly from the solid yellow.  The manifestation even distorts the colour field overlaid on my image, so it's not a film imperfection - nor does it appear to be an artefact of the camera equipment, since orbs didn't show up in other photos taken that same day.
So far, my search of the web hasn't turned up any other aura photos with this particular anomaly.
I believe what showed up in my picture could well be the manifestation of the unseen, energetic, and often playful presence I sometimes sense around me - but I'm open to any well-argued skeptical viewpoints. With that said, if the orb in this photo has a mundane explanation, I haven't found it yet.
STACE TUSSEL