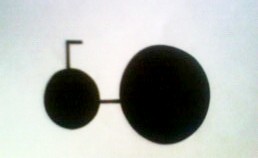 In the early- to mid-1990s I was going through an increase in anomalous encounters with what I consider non-human intelligence.  Interaction occurred primarily during the middle of the night, but I sensed interaction as well while I was listening to certain trance music through headphones – particularly "Pleiadean Communication" by A Positive Life.  In early June of 1995 I listened to it perhaps a hundred times, or more.
At the same time, numerous synchronicities involving the Pleiades came at me, and I distinctly felt that whatever was "visiting" me was Pleiadean in nature.  As the song infused me, something in me seemed to "click into place."  I felt something special happening, but I didn't know exactly what it was, or what it meant…but I was soon to find out.
On Friday evening, the 16th of June, my friend Sonja and I drove from Emporia, Kansas, where we were both attending college, to Topeka, to visit with a friend of hers that I'd never met before.  I believe his name was Michael.  He handed me a book called the Keys of Enoch (Enoch being a major pseudopigraphal work) and showed me some photos of southern England's recent crop circles.
I'd only recently "discovered" crop circles, via the classic Circular Evidence by Colin Andrews and Pat Delgado, so I was interested in these designs which had apparently been evolving in complexity throughout the early 1990s.  But unlike the circles in the book, which were relatively simple in nature while showing anomalous details that seemed to eliminate humans as a factor in their creation, the circles Sonja's friend showed me depicted undeniably intelligent designs. My impression of these complex circles was that they weren't the real deal; surely the fancy ones were fakes.  But I kept that to myself.
As Michael handed me a full-colour calendar back from a prior year, with twelve beautiful photos including 1991's famous Barbury Castle formation, I thought (with a touch of natural skepticism, I suppose):  "Show me one of these in Kansas, and then I'll believe."  Now, this is very important:  The time was about 10.30 on Friday night, 16 June 1995, and I was sitting in a stranger's house on the west side of Topeka, Kansas, holding a calendar back, literally asking for a crop circle to investigate.  This, too, I kept to myself – or so I thought.
The next few days passed quickly.  My younger brother got married Saturday and my older brother and his family were visiting from Ohio.  So on Thursday morning, the 22nd of June – almost a week after I'd wished for a Kansas crop circle – we were all sitting around my mother's dining room table in a small town in south-central Kansas.  Mom was looking at the Hutchinson News, and she read aloud, "Here, Stace – Crop Circle Mars Inman Wheat Field."
There on the front page was a photo of a farmer standing in a brand new crop circle formation little more than an hour away from my mother's house.  I wouldn't normally have been at Mom's house on a Thursday – what luck!  Within minutes I had phoned Mr Regier for permission to enter his field and directions to the site, packed the car with Dad's tape measure and a camera, and said some quick good-bys.
Ironically, in the excitement of the moment, I had completely forgotten my request the Friday previous for a crop circle of my own to investigate.  More about confirmation later….
Because the crop circle had only been found on the 20th and reported in the news on the 22nd, my daughter and I were two of only a few people to have stepped into the formation. I felt a sense of elation and wonder that beautiful Thursday morning as I photographed and took measurements of the gleaming golden crop lay.  The ground details were beautiful.  I knew what to look for after having pored over Circular Evidence with such interest. I carefully inspected the entire formation, which stretched about 120 feet (about 36.5 metres) from east to west.  My daughter and I carefully measured each facet's dimension, and I photographed and documented details like gap-seeking, isolated standing stalks, and underlying swirls.
The diagram I produced from measurements was painstakingly created from careful ground measurements; no aerial photo has ever been found. The crop circle shape resembles an old tractor:  a large circle to the east was connected by a thin path to a smaller circle to the west, which had another thin path leading directly north out of the smaller circle before jutting east, almost like an exhaust pipe.
The samples I collected of the affected and control wheat were sent to Michigan. WC Levengood,, confirmed that the sprouted wheat from the control samples grew normally, whereas the wheat from various points within the formation grew significantly more rapidly and evenly.
As I continued my investigation over the next several days, I interviewed a farmer named Chad who witnessed astonishing light phenomena that "made the hair on [his] arms stand on end."  (Note: piezoelectric effect, perhaps?)  He was tilling a field on the warm, muggy night of June 16th, and at around 10.30, he suddenly saw a stationary row of several lights "like car headlights on dim" above the field across the road to his north, "stirring up dust."  The strange lights "spooked" him, he said.  He turned the tractor around at the end of a row, looked back, and the lights were gone.  And four days later, on the 20th of June, Mr Regier found the crop circle in the exact spot Chad had seen the lights.
Was the timing mere coincidence?  I didn't think so; 10.30 PM on the 16th of June was so specific that I had to take it personally. And something about the song "Pleiadean Communication" kept coming back to me….as though by listening to what I feel may have been channeled music I had entered a true trance state which had allowed an interface between myself and the circle makers.  That my request had apparently been answered immediately was notable.  But who knows – maybe I needed just a little more evidence….
To cement my knowledge that inter-intelligence communication had occurred between myself and the circle makers, a full year later in the summer of 1996 an even wilder synchronicity was revealed.  On a whim, I decided to take out a map of Kansas (82,282 square miles of land) and put a point on the map where I had originally wished for a crop circle and another where I had initially learned about the Inman formation.  With a ruler, I drew a straight line between the two points – a geographical distance of about 160 miles.  There, on the line, six miles east of Inman and a mile north on paved county roads, then a quarter mile back west on a dirt road, was the precise spot of the Inman formation.
So not only did the crop circle appear at the moment I wished for it, but it took the stylised form of the tractor on which rode the only known witness to its creation….and it appeared directly on an extraordinarily significant axis.  All of this without a word spoken – only a private wish calling out from deep within me.  Webster couldn't do better at defining "communication."  At that moment I beamed one of the biggest smiles of my life, I'm sure.
I feel sure the circle makers were smiling too…
STACE TUSSEL

NOTE:  My field report and diagram were published in the Summer 1996 issue of The Circular, a UK periodical now out of print.

Tags: Colin Andrews, Consciousness, crop circles, inman, Pleiadean, pleiades, synchronicity, US crop circles