I can't resist commenting on the two most recent UK crop circles – very fine additions to the 2009 season …
First, the huge (~600′) Jellyfish pattern that appeared a few days ago, and now the Dragonfly that showed up just today.  They're quite impressive, I must say.   Since I haven't been able to visit these two personally, I'm not going to speculate too deeply on their origin … but I can't help making note of the synchronicities.  The JELLYFISH and the DRAGONFLY are the only creatures displayed prominently in my home.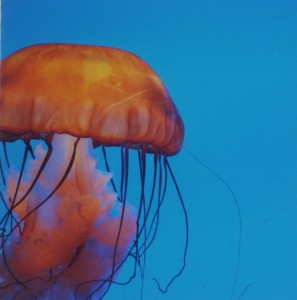 My very dear friend Ada Garcia came over tonight to help me out by taking some photos that resonate with the two most recent big circles in the UK (none here in the US yet this season).  Here's a photo of one of only two animals "framed" and on display in my house (other than family feline companions Minouche and Tiger-Saatchi):
Ah … the Jellyfish.  I bought this beautiful, fluid photograph by Ann Renee Chavez several years ago here in Denver.  Don't ask me why – it just caught my eye and I couldn't resist.  It hangs on the wall directly above my computer.  I love the colours, which this photo exactly reproduces.
And just today the Dragonfly formation appeared.  So, here's a photo of a dragonfly I found just outside my front door about 10 years ago, now lovingly preserved and one of my treasures (I'd photoshop out the small hole in the plastic covering, but you get the picture).  Based on where I found it, I believe I was meant to rescue the dragonfly, which was moving just a little bit as a bunch of ants were beginning to make it their supper.  I shooed the ants away and brought the dragonfly in the house to let it die in peace and dignity, then kept its body for its beauty and grace.  Dragonfly is one of my totems, and I describe more about my relationship with this beautiful creature in my prior post "The Cosmos Neither Declares Nor Conceals."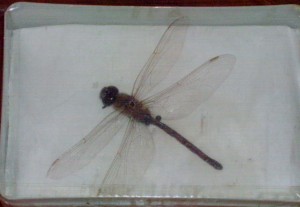 Speaking of totems, my two stand-out totem animals are Dragonfly and Hummingbird … both representing freedom of movement, quick as light, ability to hover, move sideways, fly in all directions basically … which, come to think of it, sort of describes the Jellyfish as well – floating this way and that, going with the flow … MORE on the symbolic meanings of these two when I have permission to post aerials and when I'm awake (getting up at 5 AM takes its toll …)
"I'm just sayin' …"

STACE TUSSEL
PS – Here is the dragonfly mentioned in my note in response to Mike's (see comments.)