Just yesterday I posted my thoughts about the meager 2009 season "this side of the pond," and then today I receive word of a gorgeous formation just reported in Alberta, Canada.
If it weren't 1156 miles (around 18 hours driving) each way, I'd consider making the trip this weekend.  But it looks like I'll have to appreciate this Canadian crop circle from afar….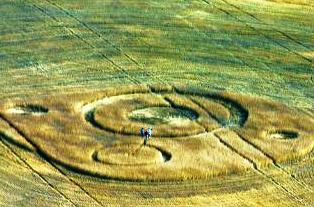 The Stettler crop circle is resonant with the Teton, Idaho formation of 2002 and the two Wilbur, Washington formations of 2007 and 2009.   I'd say they're in the same family of circles…
STACE TUSSEL
NOTE: Articles about the Teton and Wilbur formations, as well as other US and international crop circles, can be found here by using this site's search box.