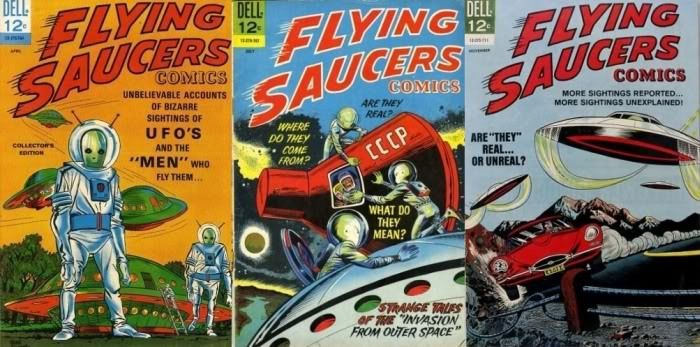 So it's late spring, early summer, somewhere in the mid-1990s.  I'm driving from Kansas City to Emporia – and I shouldn't be driving.  Sonja's up front with me in my 1980 BMW, and Sky's in back.  Sonja is asking "How do you know when you see a UFO?" and "What does it feel like?" and "Do you think I'll ever see one?"
I must be playing it pretty cool because I'm being allowed to drive, even though – like I said -I shouldn't be.  I'm trying to keep the car on a straight path.
It's getting pretty dark, so it's well after sunset, and I see an orange light near the horizon ahead of us. Figuring it's a plane heading for KC as we drive west, I say to Sonja, "That could be a flying saucer.  So it's a technically a UFO, but only because we can't tell from this distance what it is.  We don't know if it's a real flying saucer, so it's an 'unidentified flying object.'"
Then, some time goes by…
…and the next thing I know this craft of unimaginable proportions is flying diagonally across the median from left to right, passing directly overhead while I continue focussing on keeping the car on the road, and at the same time quickly noting that this thing is HUGE and tilted – and Sky leans forward and she and Sonja are looking up through the windshield screaming, "It's a flying saucer! Ohmygodthatsaflyingsaucer!!!!" as I grip the steering wheel and pull to the side of the road, looking back through the rear passenger window to see the thing rapidly disappear into the distance.
Both Sky and Sonja are hyperventilating, breathing in an entirely different world than they'd ever seen before.  They had just watched a huge disk, low overhead and bigger than they could explain, rotating and revolving, tilted to reveal its underside – which they both described as a display of many small, white lights flashing in a synchronised pattern.
I missed it. I suppose I was being punished for driving when… well, like I said, I shouldn't have been driving.  I do regret that, more than I can say.  Apparently our conversation may have been "overheard," and a saucer moves in so that Sonja can see one – and she does, her first! – and Sky gets quite the visual treat, too.  But me?  I'm taught a hard lesson.
Fair enough.  Other than being taken aboard a craft, this was the biggest, the closest and clearest and most coherent saucer I'd been near, probably, and it passes directly overhead in plain view, and I miss it.
That's what I get for being a crazy, stupid-ass driver.
STACE TUSSEL
Tags: Consciousness, flying saucer, synchronicity, UFOs