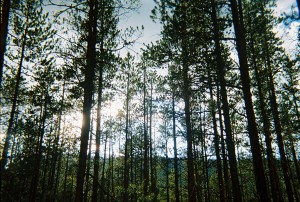 Location of Bigfoot Expedition near Leadville, Colorado
I was walking through the dark, dark woods late at night with a few other adventurers during the Paranormal Research Forum's 2008 Bigfoot Expedition near Leadville, Colorado.  We were making a focused attempt to contact Sasquatch in a part of Colorado with a relatively high number of reported sightings of Bigfoot, and the energy was high.  I didn't sense any fear among those in our group.
Suddenly we noticed through the trees a single, exceptionally bright, unblinking yellow light in the sky ahead of us.  It was making a beeline toward the forest where we all watched it, thinking it may be a spectacular satellite.  But when it got directly over us, the light simply disappeared.
A quick check of the heaven's above website the next day revealed that, in fact, nothing remotely resembling what we saw was supposed to be in the sky at that time and place – i.e., it wasn't the Space Station, nor was it any reported satellite.
Based on what I've learned about Bigfoot and UFOs, I can't dismiss the yellow light as a mere coincidence.  It appeared at just the right time in just the right place.  The light in the sky wasn't guttural howling or the tree hammering that we were anticipating, but may have instead been a basic sign of recognition, considering we were attempting to contact Bigfoot.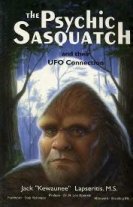 In The Psychic Sasquatch and their UFO Connection, Bigfoot researcher Jack "Kewaunee" Lapseritis describes how visitors to wilderness areas populated by Sasquatch are often followed and closely monitored by birds, such as hawks and ravens.  Kewaunee, who has been documenting his and others' encounters for decades, feels that the birds are recruited to telepathically convey what humans are doing while Sasquatch is busy with other tasks.  Thus, birds "keep an eye on things" and communicate back to Sasquatch what they see.
Anecdotal evidence from numerous witnesses who have interacted with Sasquatch suggests that these "creatures of myth" are not only real, but are associated with UFOs, communicate telepathically, and can slip in and out of view via interdimensional portals.  So it's no surprise whatsoever they'd be able to use birds as purveyors of surveillance.
At some point it occurred to me that if birds are associated with Sasquatch and if Sasquatch are associated with UFOs, perhaps birds are used in other contexts to draw our eyes up to UFOs we'd otherwise miss.  I suppose it made sense to me to see this connection, since in recent years I've encountered at least two UFO incidents that I would have missed had my attention not been caught by high-flying, circling birds…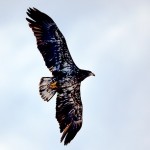 A few years ago I saw a hawk or an eagle or some kind of bird that looked so large and so perfect circling overhead that I thought it might be a fancy kite.  I took my binoculars and honed in on the smooth sailing bird, and it was so beautifully shaped and coloured that I questioned whether it was an actual, living bird or something else.  Since the nearest open space is about a half mile from my house, I didn't see how it could be a kite.
I didn't have much time to think about it since I was quickly distracted by a silver dumbbell shaped object, then another and another (three total) that passed through my field of vision east to west.  These UFOs, each essentially composed of side-by-side disks with one side a little larger in diameter than the other and connected with the mere hint of a middle bar, glided over me quickly.
These weren't tumbling in the wind like you might expect a balloon to, but rather appeared to be quite deliberately flying over my house in formation – almost like they were on a mission.  I took down the binoculars, but couldn't see the bird nor the UFOs without magnification; they were that high up and must not have been reflecting a lot of light.  I quickly looked again through the binocs and luckily got the smallest (or highest) one in view just before it went over the roof line and out of sight.
The next time a bird accompanied a sighting was one evening when I was sitting on a lawn chair on the back patio, watching the sky for one of the stationary "day stars" that I used to see so frequently just to the east of overhead.  Soon I noticed a solitary bird circling very, very high to the southeast, and I knew it must be an eagle or some other huge bird for me to see it at such a distance.
I didn't get a great look at the bird through binoculars because as soon as I locked in on it, a shiny silver ball sitting in the sky behind it caught my attention.  I continued to watch the silver ball as the bird went out of the viewfinder.
After awhile I reluctantly took down the binocs to see if I could see the bird or the UFO with the naked eye, and I still saw the eagle, but not the UFO.  Luckily I found the UFO again through binoculars, though the bird wasn't my guide this time.  I found the silver ball only by scanning the sky slowly.  It remained stationary and visible for several minutes, until the Sun went down.
I found this similar sighting at the National UFO Reporting Center website:
Occurred : 9/21/2002 13:00 (Entered as : 9/21-02 1300)
Reported: 9/23/2002 2:07:14 PM 14:07
Posted: 3/21/2003
Location: Columbine, CO
Shape: Circle
Duration:45 Minutes Round silver object seen only through binoculars that remained stationary for over 30 minutes.
While my wife and I were hunting approximatley [sic] 6 miles north of Columbine, Colorado which is about 30 miles north of Steamboat Springs, we saw a round silver object in the sky,,,this object could not be seen with the naked eye. I was looking through my binoculars at an eagle when I noticed the object. The sky was very blue and clear and there was definitely something in the sky. I handed the binoculars over to my wife and I gave her the approximate direction in the sky. It took her a minute or two, but she also saw it. …After 40 minutes, we could not find the object again in the same portion of the sky. We scanned the area for several minutes.
I wonder how many unreported UFO sightings also started with the sighting of a large bird…?
STACE TUSSEL
Special thanks to my friend Mike Clelland at Hidden Experience, whose recent post about the owl and hummingbird dream inspired me to finish this article, finally ending weeks of editorial trepidation!