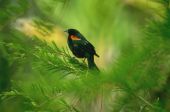 An example of the beautiful red-winged blackbird.
Something fishy is going on with bird deaths.  If it were just the Beebe, Arkansas event, the news would have come and gone much like the report of the thousands of dead starlings that spooked a town in New Jersey a couple of years ago – but Beebe was only the beginning.
In just the past five days large numbers of dead birds have been found, inexplicably deceased, in concentrated areas where they fell in the US states of Arkansas, Louisiana, Kentucky, Texas, and Tennessee.  Hundreds of fallen turtle doves were also reported today in a small town in Sweden.  Downed power lines, stormy weather, poison, disease, and even fireworks-induced stress have all been put forth as possible conventional suspects in the bird deaths.
We haven't yet heard that weather balloons or swamp gas might have been the culprit in these bird kills, but as the reports stack up, more fringe speculation is creeping into the conversation.  Could HAARP or some kind of particle beam weapon be engaging in target practice on these creatures?  Are UFOs slamming into the flocks, perhaps unwittingly?  Did the crack in Earth's magnetosphere that occurred on the 28th of December – which was quickly followed by 2011's first two mag-7+ earthquakes – have some heretofore unknown impact?
In the most recent of an eerie string of reports, over 100 dead black birds were reported found along a busy stretch of highway just north of Lebanon, Tennessee.  As seen on Nashville's WSMV Channel 4 News, a spokesman for the Tennessee Wildlife Resources Agency said, "The birds have definitely been dead 5 or 6 days."  If the Tennessee birds were dead for nearly a week, why were they only reported Tuesday and investigated today?  One would think that with all the news coverage in the US and internationally, something like this would be noticed and reported right away.  And why might the bird carcasses apparently repel rather than attract coyotes and other scavengers?
Also, why are we seeing increasing numbers of reports in a specific region of the United States?  In each case, why have the birds been found grouped together in a small area?  If fireworks – which have been around for hundreds and hundreds of years – are really to blame, why haven't mass bird deaths been reported in conjunction with them before now?  Considering the fact that each reported case in the recent wave has been found in plain sight in a populated area, how many of these sudden bird deaths may be occurring away from view?
Until some real answers are uncovered, the questions – like the bird deaths – continue to pile up.
STACE TUSSEL