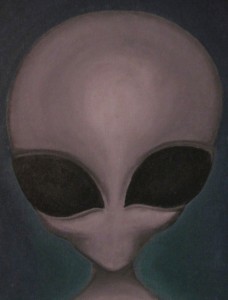 Nuanced Grey, by Stace Tussel.  Oil, circa 1995.
World media, in a coordinated fashion, seems to be closing in on an admission of an ET presence, and recent news in particular seems to intently focus on life on Mars.  I've been following this cascade of revolutionary information for some time.  With increased disclosures in the first days of 2010, I'm reminded of just how close Mars is to Earth.  A recently released photo of lake beds on the planet's surface may even show evidence of the habitation – current, past, or both – of Mars.
If life ever existed on Mars, then advanced lifeforms certainly could have evolved.  Living on Mars' brutally cold surface would require planning and technical expertise, and Marsians would need to be resourceful – and intelligent – to survive.  Enclosed environments designed to withstand weather extremes might be manufactured with superior materials in order to house controlled ET communities.  But perhaps Marsians would prefer to reside underground, protected from the cold climate and intense radiation.  Mars has a molten core similar to Earth's, and since Mars is smaller, its heat may be more accessible – meaning inner-Mars may well provide a suitable environs for ETs.
Marsians would likely need relatively little oxygen, light, and food, as compared to their Earthbound neighbours.  I imagine they might share characteristics of the Greys of modern fame (or notoriety, depending on one's point of view).  For instance, they wouldn't need stomachs and lungs, at least not to the degree humans do.  In order to carry on their race, Marsians would need to adapt, via natural or artificial evolution, and DNA manipulation, to the environment in which they reside.
Whether Grey Marsians were to live primarily on the surface or deep underground, their big, black, wraparound eyes serve a purpose.  The Greys' eyes, which I recall as a hypnotic array of many small, velvety, black hexagons, may also function as virtual sunglasses for surface dwellers.  In contrast, the large dark eyes may be all-pupil, allowing inner-planet residents to absorb as much of the visual field as possible.
Possibly the eyes function in divergent capacities, as needed.
Established arguments against the existence of UFOs and ETs, primarily based on the perceived limitations of distances measured in light years, are quickly becoming archaic as evidence for them mounts.  Perceived reality is shifting, as it always has, with the tide of human knowledge.  Perhaps for the first time in recorded history, humans are learning that a habitable planet other than Earth is within reasonable reach.  Perhaps one day even the staunchest skeptic will realise that ET really is as close as swamp gas and weather balloons…
STACE TUSSEL
NOTE:  I prefer Marsian over the outdated and stereotypical "Martian."
Link to BBC News article, "Mars' ancient lake beds…"