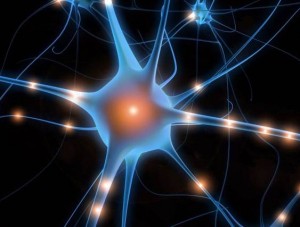 Electric impulses in thoughts, manifested in dreams and deja vus.
Just about everyone has experienced the odd, fleeting sensation of deja vu, often described as the sense of reliving something previously dreamed.   Ironically, while that definition implies precognition, many who stand by that explanation are also staunchly opposed to psychic phenomena in general.   When deja vu is married with another mysterious, yet scientifically real, autonomous activity – dreaming – it lends itself to an acceptable explanation.
A quick internet search reveals that most instances of deja vu are reported to last only a few seconds.  My experience confirms this observation.  Wikipedia summarises several theories about the sources of deja vu, but fails to adequately address its most uncanny aspect:  that it produces more than a sense of "having been here before."  A dramatic deja vu's impeccable predictability is stunning, if transient.
It's not a sense of having known what's going to happen after the fact or even as it's happening, but rather having a significant and notable awareness of precisely what is going to happen just before it happens, in a cascading fashion.
A few weeks ago I experienced the strangest deja vu.   At the onset, time fell away and seemed to cease altogether.  I estimate that for about five minutes I was simultaneously immersed in the past, present, and future.  Now I can't begin to entertain the notion that I'd dreamed this situation before; my dreams are realistic, yes, but in a way that isn't duplicated by "real life."  There I was, sitting on the sofa, listening to another's recollections unfold entirely as I anticipated (so to speak; it's difficult to describe something outside of time sans a time reference), in what would become the longest deja vu I'd experienced.
The other person involved in my five minute deja vu nearly always resorts to science's euphemised heavy hand, aka Occam's razor, to explain most phenomena residing outside the canonic worldview.  Yet for him, deja vu is the experience of something he predictively dreamed long ago.  In this way deja vu is a future reflection of a past dreamstate, exploiting the universality of dreams.
STACE TUSSEL