Today's solar storm apparently arrived out of the blue, accompanied by Arkansas' most powerful earthquake since 1969 and a number of other notable temblors around the US, including a mag-4.5 just 75 miles north of San Francisco.
Hours later I've not found a single reference to the cause of today's unexpected stormy space weather.  Apparently the talking heads are being tight-lipped – or they simply don't know the source of the storm. Neither scenario is preferable.
Take a look at the depiction of the rather angry-looking auroral oval posted on spaceweather.com's website this morning: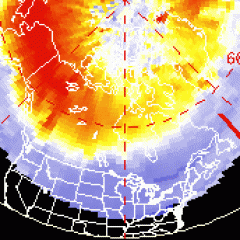 The source of the storm remains an enigma.  Other than a powerful M-class solar flare that erupted just a few days ago and which was downplayed in possible misinterpretation at the time ("…Earth was little affected. Plasma clouds produced by the blast did not come our way…"), clues about the source of today's surprise, big geomagnetic disturbance and the accompanying remarkable quake activity haven't surfaced.
While I'm busily working on upcoming articles about remote viewing and synchronistic crop circle alignments, I welcome your thoughts about the source of today's mysterious solar storm.
STACE TUSSEL