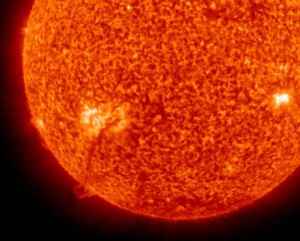 One of the strongest earthquakes on record, a magnitude 8.8, hit central Chile early today.  Tsunami warnings have been issued all coastal areas in the path of waves radiating from the quake zone.  Numerous aftershocks nearing magnitude 7 have occurred since then and continue at this time, 12 hours after the quake.
The fault along the western side of Chile and under the Pacific ocean apparently slipped dramatically, which is an important consideration in the prediction and observation of waves capable of producing tsunamis.  The strongest earthquake on record ever hit the same area of Chile almost exactly 50 years ago.
Coinciding with this huge earthquake today we are possibly in the path of ejecta from a huge filament on the Sun that stretched over a million kilometres long and which erupted on the 24 February.  At the moment the geomagnetic effects of this filament's activity and a possible (as yet unreported) Hyder flare are unknown.
Spaceweather.com reports in their archive for 25 February 2010 that "…The 'Great Magnetic Filament' on the sun that we've been tracking for the past week finally erupted yesterday… The event did not produce a bright solar flare, as sometimes happens when filaments erupt, but there was a coronal mass ejection (CME). SOHO coronagraphs observed at least one and possibly as many as three clouds billowing away from the sun… If any of this material is heading for Earth – a big unknown! – it would arrive on Feb. 27th or 28th."  (italics added)
As the Sun continues to "rub its eyes" upon awakening from a exceptionally deep solar minimum, we should be aware of associated Earth changes.  We are not yet in the throes of solar max, and if current activity is any indication, we should anticipate more severe disruptions of the Earth's geomagnetic field and tectonic/volcanic activity, which in turn impacts the surface temperature of Earth as well as her oceans, thus cascading effects on weather and climate.
We are all going to be affected by these changes in our planetary and immediate environment.  The alignment of our Solar System with ecliptic of the Milky Way, combined with unpredictable and intensifying solar activity, I feel is key to the permanent transformation of Earth and her inhabitants.  A cycle which we cannot control is taking over, so we had best hang on for the ride of our lives!
While some changes are devastating, it's important to remember that others may prove to be helpful.  Now is the time to focus conscious intent on maximising recent DNA upgrades that may have accompanied the recent intense bombardment of Earth by cosmic rays, along with which lifeforms of all types seem to be developing new high-level abilities.
Perhaps through accelerated evolutionary changes in our DNA, which seems to be been programmed for general "improvement," life is preparing to leave this planet and move on to other places – even other dimensions entirely – in order to survive a catastrophic demise of most or all life on Earth.  The 2012 era is upon us, and perhaps sooner rather than later we will learn the implications of that fact.
STACE TUSSEL