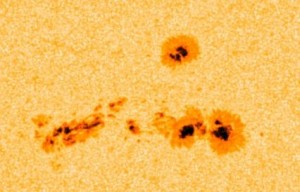 Active Sunspot Group 1117.  Image: Solar Dynamics Observatory.
Several prior posts here at IIC have explored the correlation between solar activity and earthquakes.  Although evidence for the link continues to build, some mainstream denial remains.  I feel that if the link is more than mere coincidence, we should do whatever we can right now to address the risks of increased seismic and tectonic activity as we approach 2012 – the expected peak of the coming solar maximum.
On 17 June, I posted an article here detailing the number of magnitude 7+ earthquakes each year since the lowest point of the last solar minimum of the last century.  Between 1996 and 2010, from 10 to 18 such large earthquakes occurred in a given year, averaging about 13 magnitude 7+ quakes annually.  My prediction that we were on target to exceed 20 mag 7+ quakes this year remains sound, as we just hit 20 with the 7.7 quake that struck Indonesia today.
Remember, many of the largest quakes of 2010 have occurred just prior to Earth entering a solar wind stream.  Charged solar particles bombarding the magnetosphere seem to be perpetuating radical planetary changes such as the creation or activation of new fault lines, as we've seen this year in both the southern United States and in Haiti.  With this trend in mind, we should be mindful of the possibility of larger and more frequent earthquakes and increased volcanic activity.
STACE TUSSEL